Dereck Lively II turns defense into offense, helping the Blue Devils get a start on offensive possessions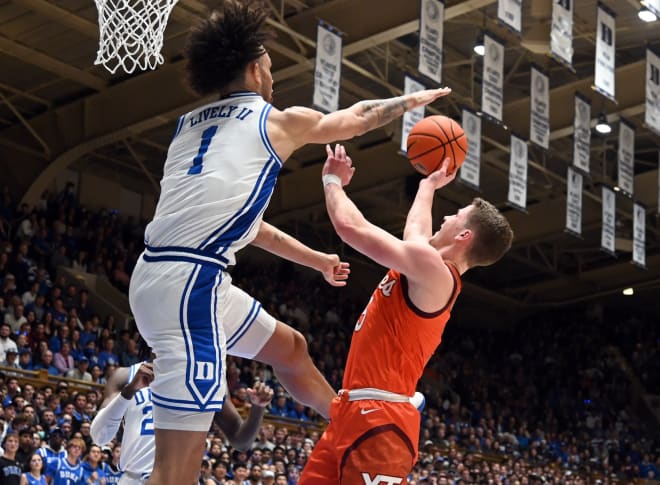 Derek Lively II knows the benefit of blocking a shot into oblivion, sending an opponent's shot so far out of bounds that a piece of their soul goes with it.
Duke's freshman center also knows the value of not doing that, and it's a calculus he's doing on the fly every time he goes up for a block.
"You've gotta be able to know when you've gotta spike the ball and when you've gotta tip the ball," Lively said. "Sometimes you've gotta just tip the ball to yourself and other times, you've gotta send it to the fifth row."
The latter is the play more likely to go viral and send crowds into frenzies; the former can lead to a fast break for a Blue Devils team that doesn't create a lot of turnovers.
It means Lively isn't just erasing defensive mistakes by blocking shots at the rim; when he turns a block into a transition opportunity, he's helping the Blue Devils make up ground from being a team that's 239th nationally in creating turnovers (17.2%, per KenPom).
"I heard whenever I blocked a ball, our transition buckets went up by almost 57% or something," Lively said. "So being able to just keep the ball in bounds and keep the flow going is something I've been able to do since high school and I think I've gotten better at it."
That percentage comes from what analyst Debbie Antonelli said during Duke's win over Notre Dame on Feb. 14. To update the number with that game plus the three others since that night, 35 of Lively's 63 blocks this season have started a transition opportunity for Duke; 19 of them were retained by the offense, and the other nine went out of bounds.
"He has started a lot of fast breaks for us by keeping it in play," coach Jon Scheyer said.
Lively is coming off perhaps his best game yet — at least, it was his best-scoring game, with 13 points on 6-for-6 shooting Saturday night against Virginia Tech. He also had seven rebounds and three blocks, rewarding Scheyer for leaving him in the game after picking up his third foul early in the second half and playing a key role in the Blue Devils pulling away for their fourth-straight win.
Duke's 7-1, 230-pound freshman is third in the country in block percentage (13.27%), per KenPom. That's the rate of 2-point shots that Lively blocks when he's on the court; as goes the cliché when it comes to the best rim-protectors, it doesn't account for how many shots Lively changes without even getting his hands on the ball.
Intimidation plays a factor and Lively knows it.
"Everybody already looks at me as someone who's always blocking shots," he said. "So, I know I'm already in their head. … If they see me, they already stop and rethink their decision."
It's something for which Scheyer, with his 30 career blocks, takes full credit.
"I've worked with him every day on how to block shots and not block it out of bounds," Scheyer said with more of a straight face than anyone in Duke's media room on Saturday night. "I take full credit for that."
On a serious note, though:
"He's a natural at it," Scheyer said. "I think the biggest thing that he's learned — Amile Jefferson … they've worked hard with each other, how to go straight up and do it without fouling. That was a big thing, especially in the first 10-15 games of the year.
"He was protecting our rim, but he was getting in foul trouble."
Picking up two fouls in the first half against the Hokies, and then a third in the first minute of the second half, was an outlier. Lively hasn't fouled out of a game since the Jan. 11 wins over Pittsburgh and has only accrued four fouls in a game twice in the 12 games since then.
Lively's defense will be under a microscope against NC State in a rematch of a game the Blue Devils lost by 24 in early January.
That night, Lively played 13 minutes — the fewest among Duke's nine-player rotation — and had one point, three rebounds, one block and two turnovers.
He's come a long way since then; as has the player he'll be matched up against.
DJ Burns Jr. had 18 points in 16 minutes that night. Starting with that game, the 6-9, 275-pound center has averaged 17.1 points across NC State's last 15 games, with 20-plus-point performances in each of the Wolfpack's last two games.
Burns has become the focal point of NC State's offense, and his post-ups and back-downs against Lively from the 3-point line will be an exhibition of brute force against stringy athleticism.
**********
Here's what to know ahead of Tuesday night's game:
Thus: 7 p.m
Location: Cameron Indoor Stadium.
TV: ESPN.
Announcers: Rece Davis (play-by-play) and Debbie Antonelli (analyst).
Series; last meeting: Duke leads 150-103; NC State won 84-60 on Jan. 4 in Raleigh.
Records: NC State 22-8, 12-7 ACC; Duke 21-8, 12-6.
Status to watch: 21 | 29.6%.
That's how many turnovers Duke committed in the first meeting of these teams and the percentage of the Blue Devils' possessions that ended in turnovers.
Those were the worst numbers of Duke's season for a while, until the Blue Devils committed 21 and 22 turnovers in back-to-back games at Miami and Virginia, respectively. Both turnover percentages in those games were over 30%.
The Blue Devils have seemingly solved their turnover issues — although if that sounds familiar, it's because they thought it'd been solved before the Miami and Virginia games. Duke committed 10 turnovers in the first half against Syracuse; in 2½ games since then, the Blue Devils have committed 19 turnovers.
For an idea of ​​how important turnovers are for NC State, take a look at the Wolfpack's past week:
– In a 16-point win over Wake Forest, NC State forced 14 turnovers and scored 16 points off them, along with 21 fast-break points.
– In a 25-point loss to Clemson, NC State forced 11 turnovers and scored eight points off them, with nine fast-break points.
Matchup to watch: NC State guards Jarkel Joiner (No. 1) and Terquavion Smith (No. 0) vs. Duke guards Jeremy Roach (No. 3) and Tyrese Proctor (No. 5).
Joiner and Smith were both cooking when these teams met the first time, combining for 45 points and a 9-for-18 clip on 3-pointers. Joiner had 21 of those points and had the better all-around game, with nine assists and six rebounds, while Smith scored 24 and had three steals.
Lately for the Wolfpack, Joiner has created a lot more problems for opponents than Smith.
Joiner had back-to-back 29-point games against UNC and Wake Forest before scoring 16 in Clemson's blowout of NC State on Saturday. Smith is shooting 33.7% from the field and 26.5% on 3s (32 of 95; 13 of 49, respectively) in the Wolfpack's last six games, three of which have been losses.
On the flip side, Duke's starting backcourt in the first matchup was Roach and Jaylen Blakes, combining for six points, making 1 of 11 shots, with one assist and four turnovers. That's one of two games this season Proctor didn't start; he had five points, four turnovers and three rebounds off the bench.
My, how things have changed for Roach after resting his injured toe, and for Proctor with almost a full season under his belt.
That duo combined for 29 points and 15 assists against Virginia Tech on Saturday night.
Proctor has become Duke's point guard and matches up against opposing teams' best guard — so it'll be interesting to see if the Blue Devils deem that to be Joiner or Smith.
Wolf to watch: Center DJ Burns Jr. (No. 30).
As highlighted above, Burns is the central figure in NC State's offense.
The first meeting of these teams was the dividing point of the Wolfpack's season; in the first 15 games, Burns took 103 shots — an average of a little less than seven per game. Some of that has to do with Dusan MahorcicNC State's starting center for the first 10 games who hasn't played because of an injury.
Burns has taken 200 shots in the last 15 games, an average of 13.3 per game.
The Wolfpack is going to feature the two guards and Burns, the transfer addition by way of Winthrop (and Tennessee for a redshirt year).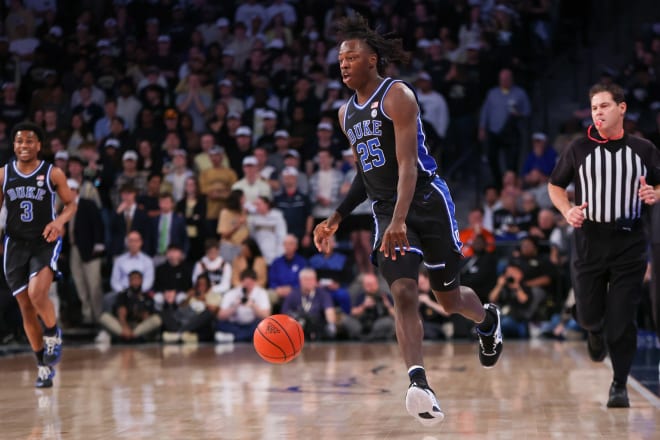 Blue Devil to watch: Forward Mark Mitchell (No. 25).
Duke is now 11-1 when Mitchell scores in double figures, a plateau he reached in the first half of Saturday night's stomping of Virginia Tech.
The freshman wing has broken through with a combined 30 points on 11-for-16 shooting in Duke's last two games.
Mitchell had six points and six rebounds against NC State in Raleigh.
Mitchell has a key matchup against Casey Morsella fourth-year wing who's shooting 42.9% on 3s this season and is the perfect complement to ball-dominant guards Joiner and Smith.
KenPom prediction: Duke wins 74-69.
Devils Illustrated forecast: The Blue Devils' redemption tour comes to a halt with this game — at least, until possible ACC tournament matchups — and it's a chance for them to make up for what might have been the worst performance of the season.
Duke's loss at NC State is one of two games this season in which the Blue Devils never held a lead, and the 29-point deficit in the final minutes is the largest of the season.
As Scheyer noted, his team is vastly different in the nearly two months since.
"I just think our confidence — you look at basically every aspect of how we were playing was different," Scheyer said. "We've grown a lot since then, I think you can see that watching the film. So have they, they're a lot better than they were that time, as well."
So this lines up as a measuring stick and test, of sorts, for a Duke team that's been maximizing its potential.